125mm SQ White Card Blanks 300gsm & 130mm SQ Empire Gold 100gsm (Pack of 25)
(Including VAT)
From £0.0402
£0.0600
(Including VAT)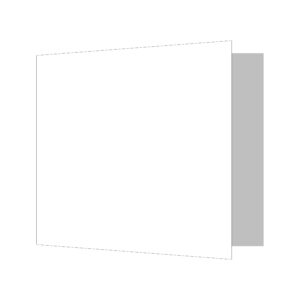 25 × 125mm Square Soporset Smooth White Single Fold Card Blanks - 300gsm
From £0.096 (Including VAT)
Out of stock
Description
Product Variations and Recycling
Description
Step into the world of premium paper craftsmanship with our curated bundle that pairs the luxurious 125mm Square Soporset Smooth White Single Fold Card Blanks with the regally elegant 130mm Square Pearlescent Empire Gold Envelopes. This exquisite package, consisting of 25 pieces of each, ensures that your paper projects, be it personal or professional, radiate unmatched sophistication and attention to detail.
125mm SQ White Card Blanks 300gsm:
Presenting the pinnacle of paper design, these card blanks, crafted at a lavish 300gsm weight, encapsulate both tactile luxury and high-end performance. Measuring a symmetrical 125 x 125mm, they offer the perfect square canvas for your intricate designs, heartwarming messages, or corporate branding. Fuelled by the renowned Soporset Offset, every print stands out in crisp clarity, regardless of the complexity or intricacy of your designs. Double-sided printing ensures that every facet of your card is a testament to quality. Their seamless performance promises an unparalleled user experience, devoid of operational setbacks. Additionally, their environmentally conscious production, bearing esteemed certifications, signifies a commitment to our planet.
130mm SQ Empire Gold 100gsm Envelopes:
Elevate your correspondence with our dazzling Pearlescent Empire Gold Envelopes, designed to imprint lasting memories. With a shimmering empire gold hue and a subtle pearlescent finish, every envelope exudes pure elegance. Their unique square design, measuring a perfect 130mm by 130mm, complements their luxurious appeal, ensuring your invitations or announcements command attention. Crafted from robust 100gsm paper, they assure protection and style in equal measure, ensuring every message dispatched is as secure as it is beautiful.
Bundle Attributes:
Complete Match: Tailored to perfection, the card blanks and envelopes pair seamlessly, providing a cohesive aesthetic to your projects.
Quality Commitment: Both products are the result of meticulous craftsmanship, ensuring durability, aesthetic appeal, and optimal performance.
Eco-friendly: The bundle resonates with sustainable choices, emphasising the importance of quality without compromising our environmental responsibilities.
Versatility: Suited for various occasions and projects, from corporate branding to personal invitations or heartfelt messages.In a nutshell, this bundle is an invitation to explore the world of fine paper craftsmanship, ensuring every message or design you craft is not just seen but felt and remembered.
Product Colour Variations
Please note; our commitment to sustainability may result in slight variations in colour shades with our products. Due to their nature, colours can vary slightly from batch to batch. The colours you see on screen can depend on your screen colour set up, and also certain computers that have light detection. We strongly suggest to request a sample from us, which is completely free. However, we offer a full 30 day money back guarantee on all of our standard stock products if you are not completely happy. You can find out more here.
Envelope Flap Variations
We take pride in using eco-friendly processes in the manufacture of our envelopes. Please be aware that some envelopes might have slight variations in flap design from the product photos. This is due to our continuous effort to reduce waste and use available resources responsibly. This doesn't compromise their functionality or quality.

Peel & Seal Designs
Some of the designs on our peel & seal envelopes can vary. This relates to the branding printed on the inside of the envelope (if any) and also the branding on the peel & seal strip. This doesn't compromise their functionality or quality.